We celebrated AF with a belated 5th birthday party this past weekend. Our style is to keep it small and intimate, so we had a small group of her girlfriends to our local pottery painting shop and had had a blast!
We had pizza and soft pretzels. And because AF is not a fan of birthday cake, I commissioned my talented friend
Kristin
to create monogrammed sugar cookies for each of the guests instead. They were a hit!
When AF was first born I remember thinking that 5-year-olds were so big. That the years when reading and writing would be part of our day were so far away. Surely it would be forever until I got to see the personality traits that God would hand-pick for her. Boy was I wrong. It's been the most beautiful, refining and
fast
years of my life.
It's a funny thing to have a daughter who is literally like you in every way. She's truly a miniature version of me. It's both hilarious and sanctifying at the same time. She's like a mirror that walks around all day and shows me little pieces of myself (both good and bad pieces). I consider it a gift though. When I was pregnant with her I used to lay in bed each night and dream about who she was.
What would she look like? What would she love? What would her voice sound like? What experiences would God have her walk through? Would she enjoy the same things as me or be completely different?
It was so fun to dream and pray and thank God for her, long before I knew a single thing about the life that was growing inside me. And now, five years later... I know so many beautiful things about her. Her loves and fears and strengths and challenges and quirks and habits. And she's everything and more that I could have ever dreamed of. And I still lay in bed each night and think about the many things I don't know about her life and her future. And about the woman she will become some day. I think about all the things that are not in my control but thankfully still in God's sovereign hands. But my influence on her at this precious stage of life is
critical
. May that little mirror keep me in check dear Lord!
So today, I humbly reflect on the five sweet years I've had with this child. Thanking the Lord for each and every day I get to be her Mom.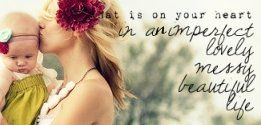 ---